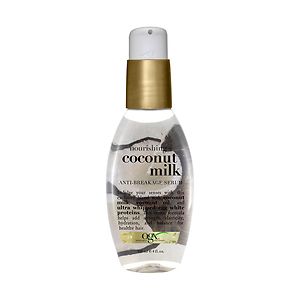 Organix Nourishing Coconut Milk Anti-Breakage Serum
Now that I'm in the States on vacation I've been able to access a lot more products than are available where I live in the Caribbean. For example, last week I was browsing CVS and saw the
Organix Coconut Milk Anti-Breakage Serum
. Now this wasn't on my
wishlist
but I remembered reading Jen of
justgrowalready.com
review
it on her blog.
According to Jen the product helped to reduce her breakage significantly. That news was enough for me! lol I bought the Organix and proceeded to test its amazing abilities.
The directions on the back of the product said to use on towel-dried hair. Well, being on a hair journey is all about experimentation ;) So far I've been using it on my dry hair to moisturize my ends. I've also moisturized my hair with my ORS HAIRepair Intense Moisture Creme and then sealed with the Organix.
The serum is quite thick and it has a nice, sweet coconut smell. When I first sniffed the bottle I thought the scent would be too heavy on my hair. When I actually applied it I hardly noticed the smell on my hair!
I've been using this for about four days and I'm pleasantly surprised that it has indeed noticeably cut down on my breakage. I only notice two to three broken strands at most when I comb my hair. I'm excited to keep using it and report my progress. If it continues to meet expectations, I may defer buying the Herbal Essences Touchably Smooth Leave-In Split End Protector and just use the Organix.
Have you used any Organix products? What are your experiences?
Happy huurrrr-day
~Hatter